Welcome to Sörbostrands Camping
The campsite is located on the western shore of Lake Vänern in Dalsland, 20 km north of Vänersborg. Here you can rent a campsite with a view of Lake Vänern for tents, caravans or motorhomes, short-term accommodation or full season. There are places both with and without electrical outlets and free Wi-Fi for all Children's playground is located next to the campsite. Large sandy beach is a few hundred metres away.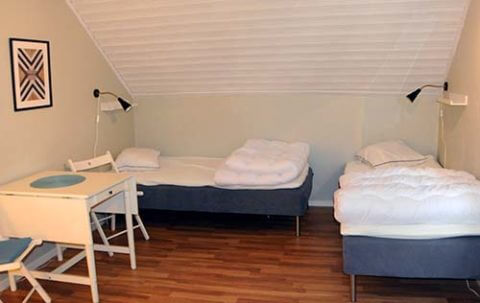 For those who do not have their own accommodation, we have rooms to rent with four beds.
The rooms are equipped with a fridge and other for the possibility of simple cooking. Access to showers, kitchen and lounges with TV is available in the service building just next door.
Season
From June 10 to August 28
Checkout
No later than 2:00 pm
Room booking
By phone
Front Desk staffed June 10 – August 28
At 10:00 am- 12:00 noon
At 2:00 pm – 7:00 pm
Other time
By phone
We do not take pre-reservtions for caravans, motorhomes or tents, ONLY for our rooms.
Write something about your visit to the campsite in our guestbook and read what others have written.