Welcome to Sörbostrands Camping
The campsite is located on the western shore of Lake Vänern in Dalsland, 20 km north of Vänersborg. Here you can rent a campsite with a view of Lake Vänern for tents, caravans or motorhomes, short-term accommodation or full season. There are places both with and without electrical outlets and free Wi-Fi for all Children's playground is located next to the campsite. Large sandy beach is a few hundred metres away.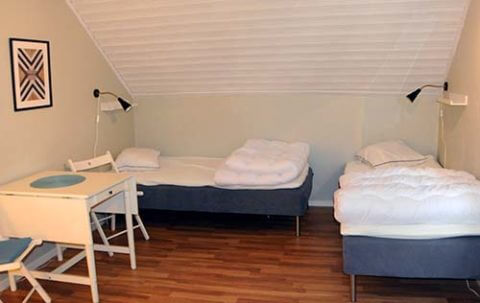 For those who do not have their own accommodation, we have rooms to rent with four beds.
The rooms are equipped with a fridge and other for the possibility of simple cooking. Access to showers, kitchen and lounges with TV is available in the service building just next door.
Season
From May 1 to September 6
Checkout
No later than 2:00 PM
Front Desk staffed 1/6 – 30/8
At 11:00 AM – 2:00 PM
At 5:00 PM – 7:00 PM
Other time
By phone or E-mail
Write something about your visit to the campsite in our guestbook and read what others have written.